Friday, October 20, 2006
How great was that very great catch?
Most metropolitanized Metropolitan fans are no doubt licking their wounds. As a Red Sox fan, I promise you that
I thirst for the blood of bison now
-- I know what it's like to watch a team lose a game even after individual player heroics. Hopefully the enigma wrapped in a riddle that is Oliver Perez will build upon last night.
Let's get down to brass tacks here. How amazing was Endy Chavez's catch? Here's
Slate
on the snar:
So, when Endy Chávez caught that ball in the sixth inning, I thought of Mays and Hano. I Googled A Day in the Bleachers. I found that Hano is 84 years old, living in California, still watching baseball. I found his phone number and decided to call once the game was over. I was elated. And then the Mets lost the game and lost the series. The catch became known, at least to me, as that catch in the goddamn game where Heilman gave up a home run to Yadier freakin' Molina. Endy Chávez, suddenly, resumed being Endy Chávez.

I called Hano anyway, and he was home. He had watched the game, he said, though macular degeneration makes it harder for him to see the television. A charming man and a brisk talker, Hano tells me how lucky he feels to have witnessed some of baseball's greatest moments. He was at Dodger Stadium when Sandy Koufax threw his first no-hitter. In 1956, he won a limerick contest sponsored by Sears—rhyming "nation" with "sensation," he recalls—and got flown out to the World Series, where he watched Don Larsen throw a perfect game. And, in 1954, he decided to buy a bleacher seat at the Polo Grounds, a seat with a good view of Willie Mays.

So, I ask, what did you think of Endy Chávez's catch in the sixth inning?

"It was a great catch and a wonderful throw at a critical moment," Hano begins. "Unfortunately, it's a catch you see so often that it's almost a stereotype. [Jim] Edmonds makes it and [Mike] Cameron makes it and [Torii] Hunter makes it."

He explains that the great Mays backtracked to the 460-foot mark in the Polo Grounds. "He outran the ball, he caught it with his back to the stands, and he whirled to make the throw." When Chávez caught the ball, Hano says, he was 360 feet from home plate. "I don't want to downgrade this play, it was a marvelous play," he says. "It may be that the stands are a little closer today and therefore you can make that catch."

Besides, Hano adds, the Mets didn't win. "To that degree, there is a considerable difference." The long ball might have lost its romance, but it still wins games. Chávez's catch had already become a historical footnote. Hano and I talk baseball for a few more minutes—the catching Molina brothers, the new stadiums in Pittsburgh and San Diego, the epic badness of this year's National League—and then wish each other well. He will keep his catch, and I'll keep mine.
There is no denying that this catch was special. But Hano raises some interesting points. You see, these home-run robbing catches are now more common because of these home-run conducive ballparks.
Humpf.
Friday, October 06, 2006
You are what you eat...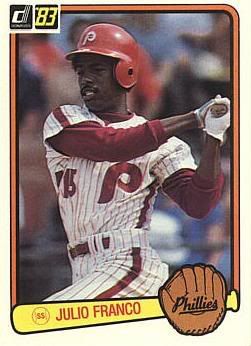 The diet-conscious Mr. Franco
Bloomberg News
:
Oct. 6 (Bloomberg) -- Sitting in the Atlanta Braves clubhouse last season, first baseman Adam LaRoche was enjoying a candy bar when it was yanked out of his hands.

``You need to go get some tuna or egg whites,'' scolded then-teammate Julio Franco as he threw the treat into the garbage.

Franco, now a 48-year-old pinch hitter with the New York Mets, forsakes all sweets and unhealthy food. He's convinced that his all-natural diet, which includes eating as many as 20 egg whites for breakfast, is helping him toward his goal of being the oldest player ever to appear in Major League Baseball's World Series.

``They say you are what you eat, so you don't want to eat garbage,'' Franco says, confirming the candy incident recounted by LaRoche. ``I stay close to nature. Anything that nature produces, I eat. If nature didn't produce it, to me, it's not worth it.''

[...]

``The guy is just really old,'' Mets pitcher Tom Glavine, 40, says with a laugh. ``But he takes tremendous care of himself. Whenever I see him, he's always eating something healthy.''

[...]

``Some of the crap he eats is disgusting,'' LaRoche, 26, says.

Franco says it's just a matter of taste.

``If you buy an expensive wine, some people don't like it,'' he says. ``If you buy a $10 bottle of wine, some people love it.''

[...]

Franco may not have always had a healthy lifestyle.

``He was very talented and he knew it,'' says Pat Corrales, who managed Franco in Philadelphia and with the Cleveland Indians. ``He was cocky and arrogant.''

Franco led the American League with a .341 batting average in 1991 and was named Most Valuable Player of the 1990 All-Star Game.

While with Cleveland in 1985, Franco didn't show up for a game at Yankee Stadium. He didn't alert the team and later said he was sick and decided to sleep at a friend's house, which didn't have a telephone.

``He was just a young man who liked pretty girls and liked to have a beer every now and then,'' says Corrales, who was the Braves' bench coach the past eight seasons. ``He has settled down and grown to be quite a man. He deserves everything he gets now because he has earned it.''

One thing Franco may not get is a cake on his 50th birthday.

``He won't eat it,'' says Braves General Manager John Schuerholz. ``Not unless it's made of soybeans.''
Wednesday, September 20, 2006
Trouble in Gotham: The weird saga of a good-looking man
MSNBC
:
And one more tidbit that gives an odd insight into Rodriguez's personality and many concerns that his image is too important: When the Red Sox were in trade talks with the Texas Rangers for Rodriguez in 2003, Boston team executives visited the star at his New York hotel room suite at 1 a.m. Rodriguez answered the door in a suit with tie tight around his collar, Sports Illustrated reported.
So concludes the silly news service round-up of the recent ink-spill on the Majors' most expensive third-bagger.
I've always felt that someone wearing a finely pressed suit and greeting you in a hotel room at 1 a.m. is intrinsically good. Now, I must rethink that principle.
The New York Times
recounts the inner-personal-emotional-feckless-athletic-grief experienced by the third-bagger:
The article details a meeting between Rodriguez and Torre that took place Aug. 24 in Seattle. Giambi prompted the meeting, according to the article, by telling Torre it was "time to stop coddling" Rodriguez.

"I basically said, 'I know you're hurting inside, because you know how much we're counting on you, and we need you,' " Torre said Tuesday. "It was tough, in a certain way, but it was more in support of him."

According to the article, Giambi had spoken to Torre because he sensed that Rodriguez was not being honest with himself about his slump.
Even the savage geeks at the
Onion
have assailed A-Rod:
NEW YORK—After suffering through much of the year with an aching heart, shattered self-image, and severely hurt feelings, Alex Rodriguez was placed on the 15-day emotionally disabled list, though the Yankee slugger did not rule out the possibility that the emotional wounds he has had to endure this season "may never truly heal."
Who knows what sort of
Rink-Ankiel
like breakdown is in A-Rod's future. Unlike any sport, baseball can break men. Prepare popcorn for A-Rod's at bats. Yes:
Get your popcorn ready!
Tuesday, September 19, 2006
Happy Recap
Yesterday, about 7:30 a.m., a diehard co-worker of mine and I were sitting in our office, talking about the sweep and the resultant prospect of clinching at home.
"Wonder if tickets are even available anymore," I mused, after reading sales had exceeded 40,000 minutes after the Bucs swept us aside Sunday afternoon, and the Phils did the same to the Astros.
We exchanged a brief glance. He logged onto mets.com and ten minutes later, we were planning our excuses to blow out of the office early with our freshly printed loge tickets.
After a lengthy drive, Metro North train ride, and 7 Train (Express, praise be to Allah) journey, we sat in our seats, all too aware of the pain and sleep deprivation we would be feeling the next day, but thrilled to be there regardless.
Thanks to Jose, Jose, Jose, Jose
Valentin
and Steve Trachsel, our greatest hope for the day was realized about 9:40 p.m., and total bedlam ensued. Complete strangers joyfully embraced, high-fived each other and danced like no one was watching as the boys celebrated in the locker room and, later, took the festivities back out onto the field with the fans.
The chants and cheers continued down the aisles, onto the exit ramps, and into the streets and subway platforms, with 18 years of waiting unleashed in minutes.
We did it.
BBPOTS Player of the Game: Jose Valentin

Professor Reyes' Spanish Lesson: "Me gusta comer" = "I would like to eat"

Wednesday, September 13, 2006
Happy recap
That's what I get for going to bed early!

The Metropolitans pulled out their first win in weeks after Carlos Delgado hit a three-run dong and Cliff Floyd followed that up with a two-run double. 6-1. Mets Win.

And the magic number is at 3, which frustrates me because the Mets will not win the division until at least Friday.

BBPOTS PLAYER OF THE GAME: Carlos Delgado

Tuesday, September 12, 2006
Recap
I could barely hear the Metropolitans' blowout loss over David Ortiz' unintelligible whining.

Let's get it together here, guys. I know these games don't mean much to you, but I need shit to watch when football isn't on.

Wednesday, September 06, 2006
Double recap
What a fine day to take two from the Bravos. And for the first time in history, one player will win two BBPOTS player of the game awards in one day.

Oh and Carlos Beltran played centerfield.

BBPOTS Players of the Game: Shawn Green and Shawn Green.

Happy Recaps
A double-dip sweep of the hated Braves. Oh how sweet it is to defeat wife-beater Bobby Cox and his band of brigands. And what is it with rookies pitching shutouts. Let's hope Oliver Perez has a nicer run than Alay Soler, though he'll probably be sent down shortly...

BBPOTS Player of the 1 p.m. game: Shawn Green

BBPOTS Player of the 4 p.m. game: Oliver Perez